Industrial and Manufacturing Epoxy Flooring 
Expert Industrial and Manufacturing Flooring Installation in Denver, CO
Industrial and Manufacturing Floor Coating Overview
Heavily used spaces, such as manufacturing facilities, demand strong floors that stand up to daily usage. Additionally, there are few options that make the most sense for industrial concrete flooring in Denver and the surrounding area, often depending on your specific application. Below are plant flooring options for manufacturing, factory, and industrial facilities we consider to be the best.
Manufacturing plants harbor plenty of challenging elements when it comes to selecting the right floor. In other words, heavy machinery, power wash cleanings, tool or heavy item drops and constant foot and machine traffic can all be present. These all pose damaging use to commercial industrial epoxy flooring.
Because of this, industrial buildings demand an easy to clean, slip resistant flooring protected from heat and liquids.
Urethane Cement Flooring for Warehouses
Manufacturing facilities buildings need durable industrial and factory floor coating systems. Urethane cement is the best, high performance solution. In other words, urethane cement flooring provides protection and longevity in heavy traffic, demanding workplaces such as an industrial facilities.
Polished Concrete
Polished concrete is another attractive option for spaces where appearance is the priority. In short, concrete can be polished from a dull shine to a highly reflective surface.
Epoxy Flooring for Warehouses
A less demanding factory plant can select epoxy flooring systems. Multiple layers of epoxy are applied on top of an existing, prepared concrete slab making for a quick installation process. Additionally, epoxy can be combined with a wide range of colorful quartz sand and vinyl chips for a more aesthetic look.
Urethane Cement Flooring
Urethane Cement is the best choice for the most demanding manufacturing floor applications. It's durable, heat and chemical resistant and stands up to all kinds of abuse.
Durable against forklifts and heavy equipment
Urethane cement is the more durable, heavier duty choice if you run heavy equipment, tracked equipment or forklifts in your facility. 
Urethane cement is the perfect solution for providing a functional, durable, and long-lasting factory floor.
Here's why Urethane cement works:
Long-Lasting – Urethane cement floors give your facility flooring abrasion resistance and durability
Thermal Shock Stability – Urethane cement can withstand power washing and won't wear when exposed to heat. 
Chemical Resistant – The integrity of urethane cement will not be affected by many types of chemical exposure.
Non-Slip – A textured coating of quartz sand gives the urethane cement a slip resistant surface
Non-Porous – Urethane cement floors are installed over a concrete slab along with an optional 4″ or 6″ cove. The non-porous surface stops debris and bacteria from growing in gaps or cracks.
Odorless – The installation of a urethane cement flooring system is a virtually odorless process.
USDA Approved – The bacteria resistant elements of urethane cement pass all USDA requirements.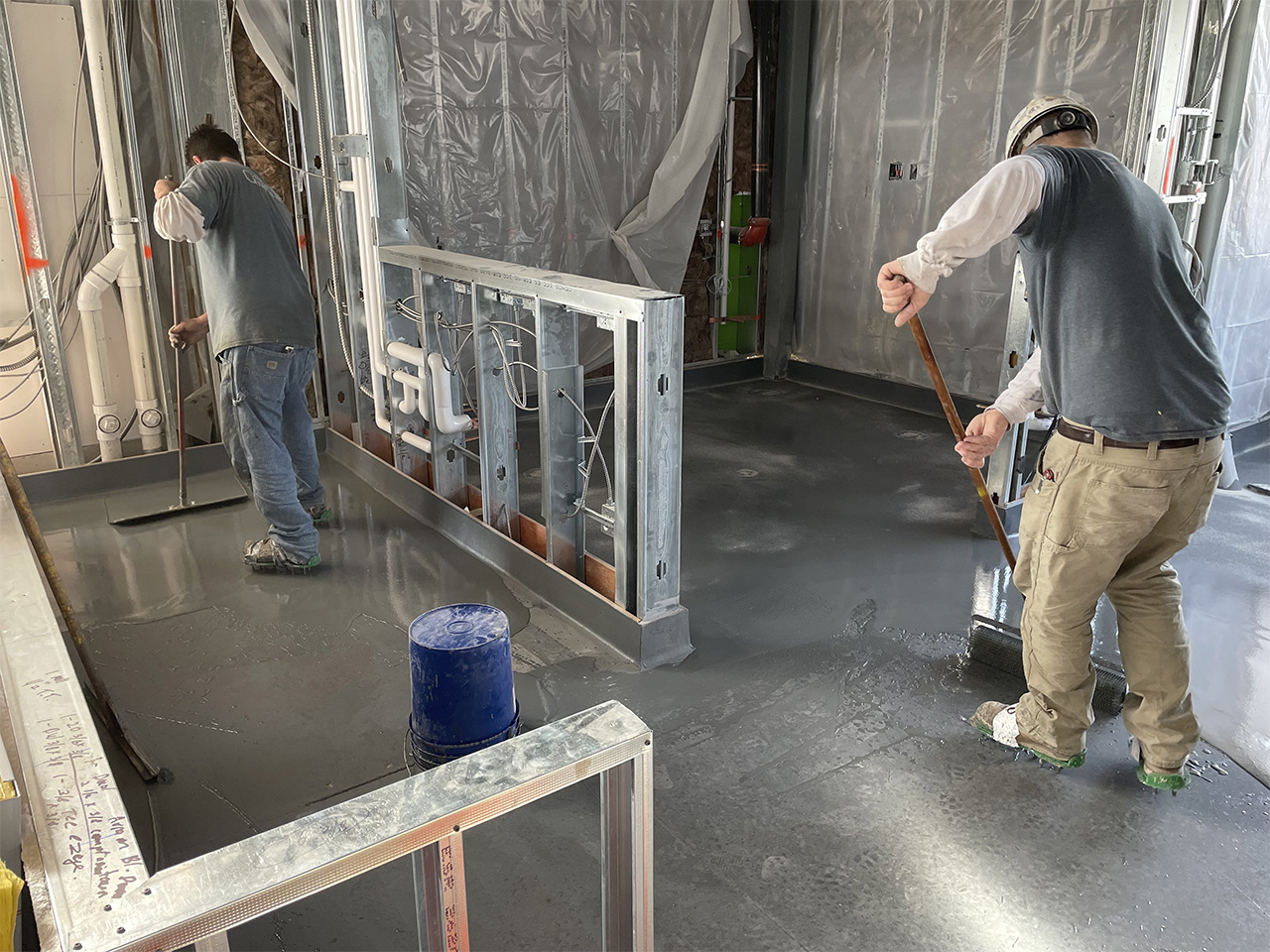 Polished Concrete Flooring
Polished concrete can be an effective solution for a less demanding building with industrial and factory floor coating that requires basic functionality. We grind, clean and seal concrete floors using vacuum diamond grinding equipment. 
Densifying and sealing the concrete provides a clean, attractive hard surface at the lowest price point. Sealed concrete does not hold up to stains and damage as well as urethane cement.
You can save on grinding costs if the concrete is newly poured or in otherwise good condition. We can simply mechanically clean and seal the concrete as well as patch and repair areas of damaged concrete.
Skid Resistant
Polished concrete is incredibly slip and skid resistant as to avoid accidents in the workplace.
Maintainable and Affordable
All you need to maintain polished concrete floors is a simple, daily mopping with a neutral cleaner and semi annually floor polishing.
Heavy Duty
A densifier is applied to increase concrete's natural durability. It also makes the concrete polish more easily.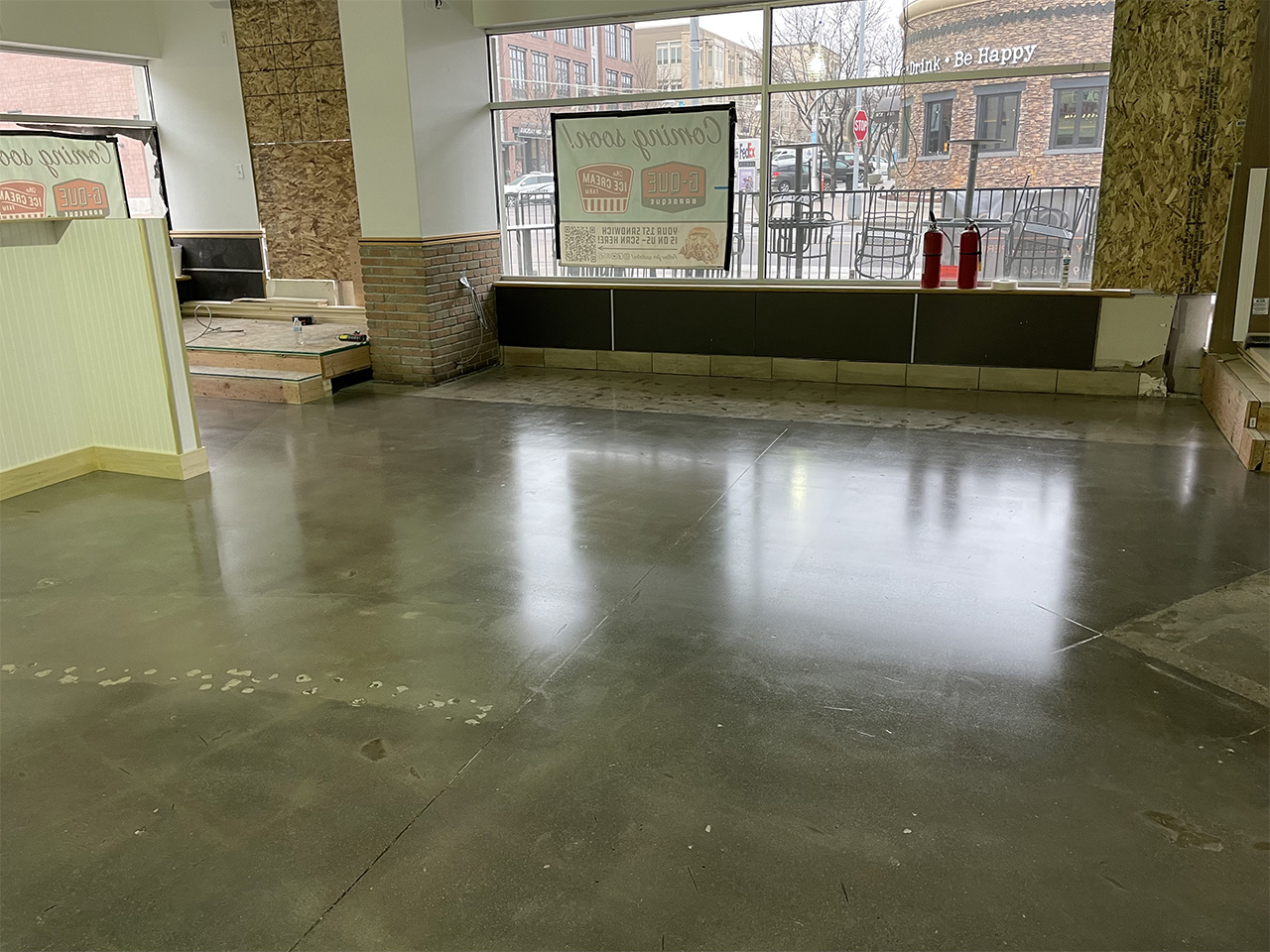 Epoxy Resin Flooring
Epoxy floor coatings are another popular flooring material. However, it requires more maintenance that urethane cement. This aesthetically pleasing option is a quicker, simpler, and more affordable option for factory facilities.
Factory epoxy flooring offers lower durability, heat resistance, and certain chemical resistance compared against urethane cement, .
Epoxy resin is less durable and can therefore suffer damage from large machines, tool drops and high temperature liquids.
Nevertheless, some warehouses do not have such challenging environments and epoxy can be perfect for an industrial floor coating.
Where extreme durability is not required, epoxy floors are a great choice. Moreover, epoxy is a great floor solution for front end spaces.
Accident Resistant
A combination of quartz sand or vinyl chips is mixed to the final coating to give the surface texture. This leaves the factory floor epoxy coating with a non slip surface
Quick to Install
Installing epoxy can be fast and seamless if done correctly. However, the more demanding the environment the more floor repairs or replacements.
Low Cost
Epoxy is the most affordable flooring option we offer apart from sealed concrete. Epoxy flooring is the better option unless you need something to handle more demanding flooring. Furthermore, epoxy is a great option for public areas if there are mixed spaces requiring different flooring types.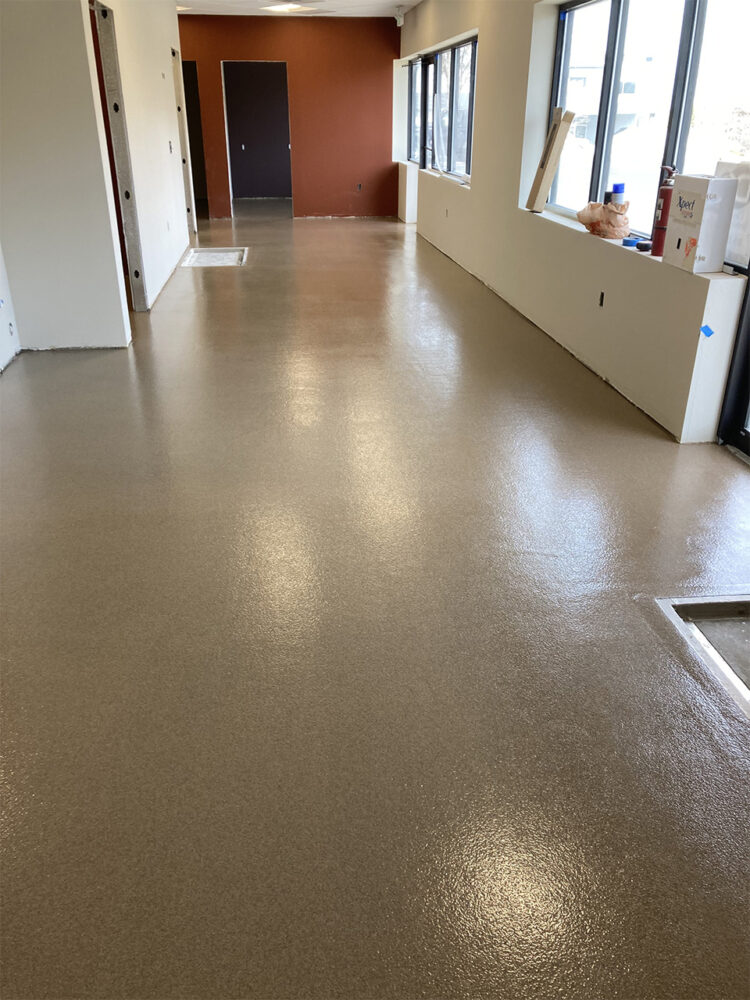 Expert Denver Industrial and Manufacturing Flooring Installations
General Industrial Flooring has installed manufacturing facility flooring for countless businesses in and around Denver since 1989. GIF offers specialty work in the flooring industry and we are open to consult for any flooring project.
We are here to serve you whether it's a new or existing project. We work with general contractors and individual business owners alike. Give us a call or send us an email to discuss the specifics of your project.