Grind and Seal Concrete Floors in Denver, CO
Professional grind and seal application for concrete flooring
Grind and Seal Concrete Floor
Grinding, and sealing concrete floors is an economical option for industrial and commercial flooring. A grind and seal floor can make great sense for areas that don't demand the aesthetic benefits of polished concrete floors or epoxy flooring.
Typically we grind and seal concrete floors in warehouses, in certain outdoor spaces, or in back of houses areas, electrical or maintenance areas, etc.
Often, too, a landlord of a commercial facility will just want to get to concrete back to the way it was before the tenant moved in (removing coatings or painted lines, etc.)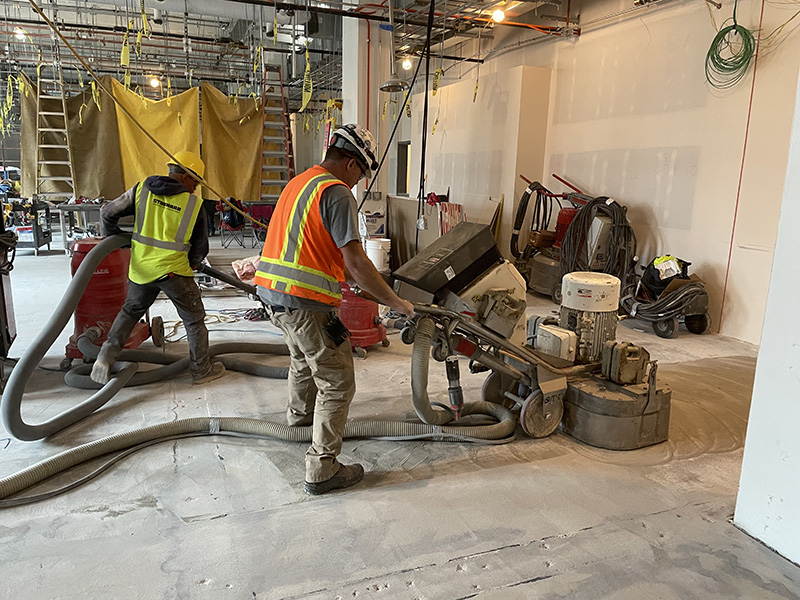 When to Choose a Concrete Grind and Seal
Economical and Simple
Typically we grind and seal concrete to improve or maintain its level of shine in an economical fashion. The floors don't need to be aesthetically pleasing, they simply need to look adequately nice for the application they are intended for. 
Removal of Coatings
Other times, a concrete grind and seal may be to remove paint, old epoxy, or other coatings that no longer suit the space or are otherwise failing. 
Non-Slip Properties
It's common to focus on cost effective and slip resistant flooring. While epoxies, urethane cements or polyaspartics can offer a better solution, they are far more costly than simply rough-ground concrete is.
Appearance
Lastly, sometimes our clients simply prefer the industrial look of raw concrete rather than a stained concrete floor. It's a surface with character and grit, without being shiny and particularly deserving of attention in and of itself.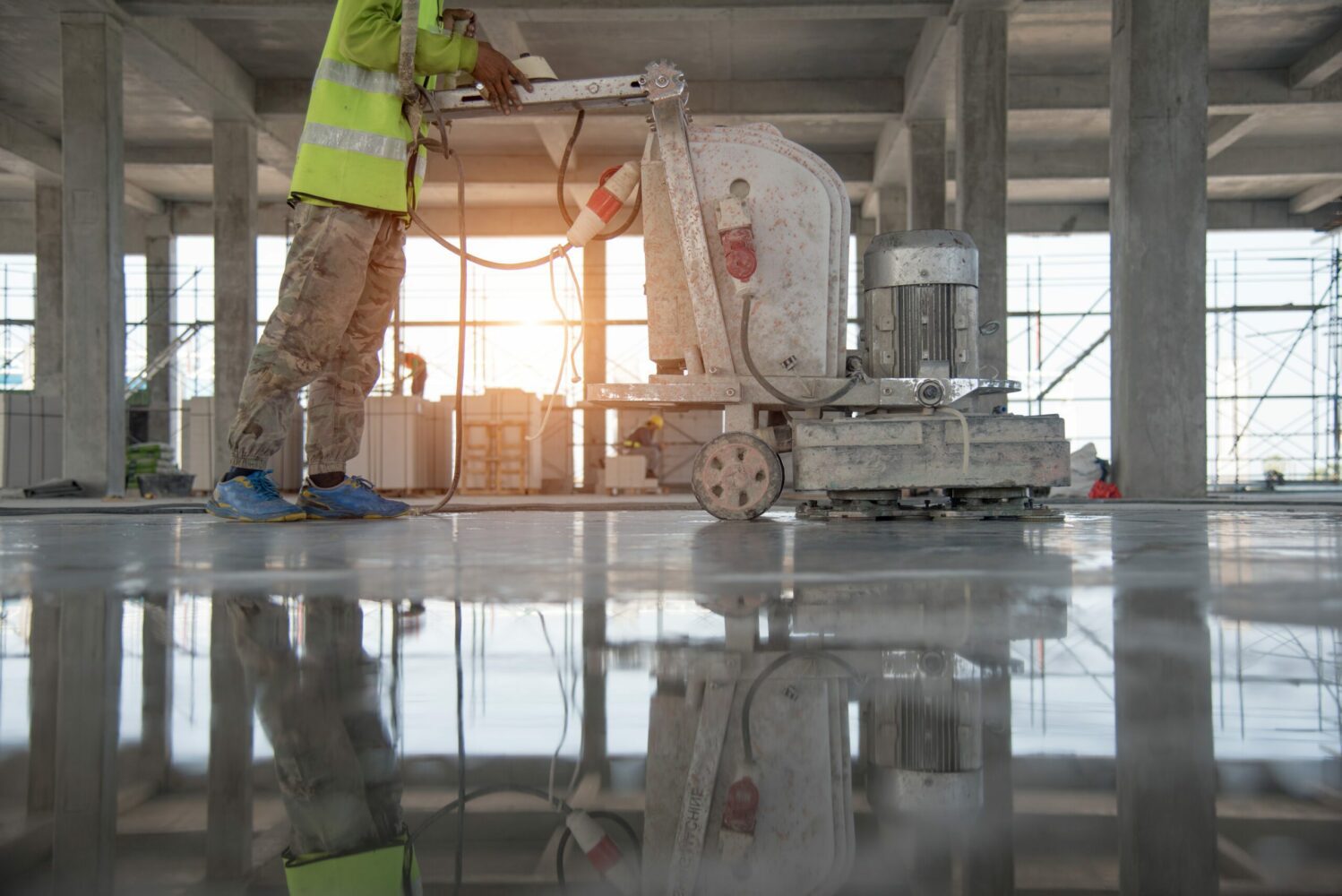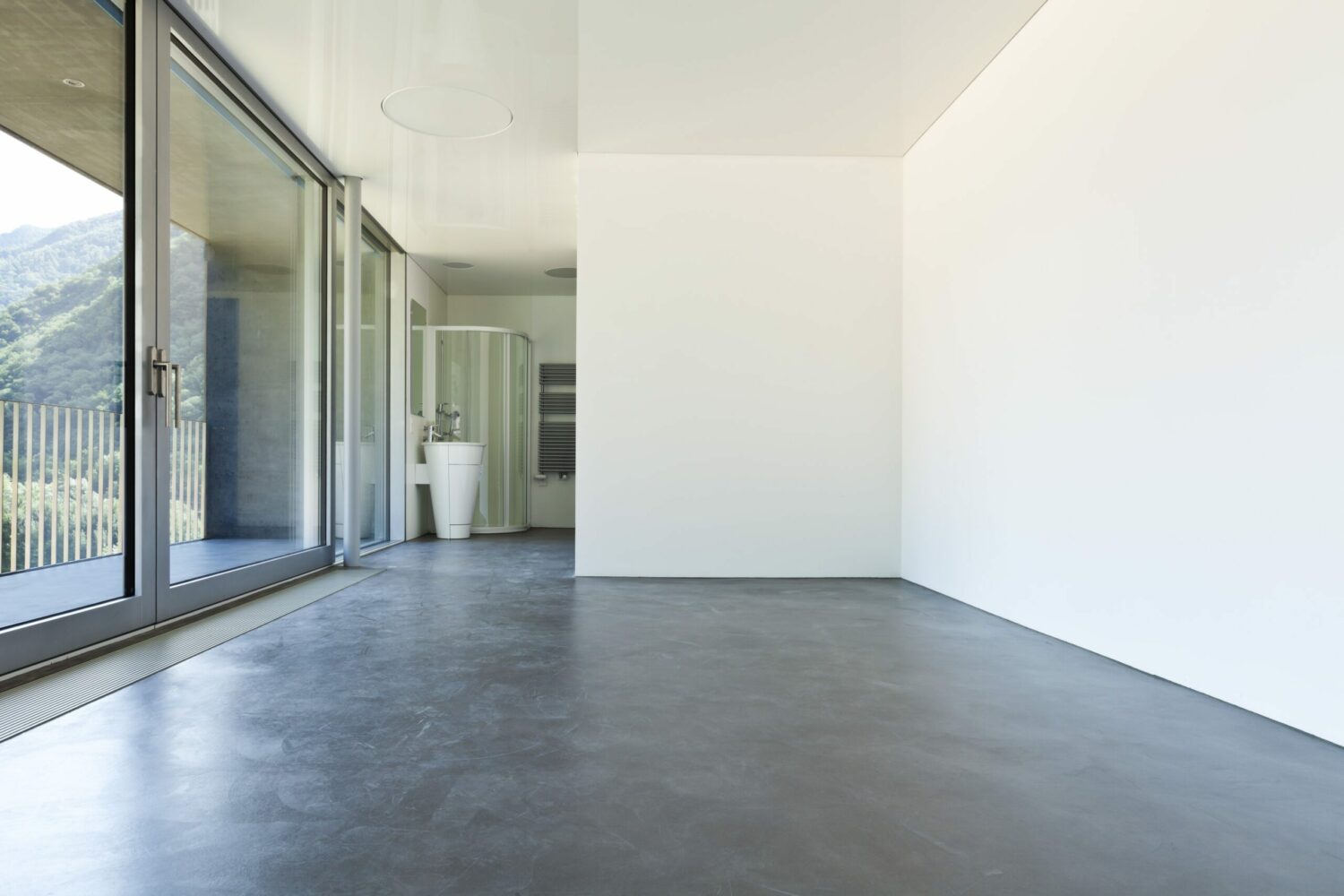 How Do We Grind and Seal Concrete?
Grinding and sealing concrete typically follows a repeatable process. In most cases that process looks like:
Demolition
Typically we begin working with a concrete slab once the initial labor intensive demo work has been completed. Subfloors, tile, glue etc. have usually already been removed. We can remove glue, thinset and adhesives if needed.
Repairs
We can repair concrete cracks, holes, joints or other damage before (and sometimes during) the grinding phase. Typically, we use concrete surface repair, like Ardex FF, but other times this can include various different caulks, polyureas or other fillers.
Grinding
We get to work on grinding the floor once the demo and any necessary repairs are completed. Here, we remove any remaining thinset mortar, unevenness in the concrete or old damaged prior coatings like epoxy. 
We use large diamond grinding equipment connected to high powered HEPA vacuums and dust collectors that eliminate airborne concrete dust as we grind. 
We have many levels of finish that we can achieve during this phase. Additionally, we can simply level floors, leaving them rough, or we can grind and then even grind and polish the concrete to a desired level of finish. 
Furthermore, we can take a worn out and beaten up rough slab and polish it to a mirror finish (though typically we stop FAR sooner) through this grind and seal process.
Densifying and Sealing Concrete
After grinding, and depending on the application, we may apply a densifier as well as various types of concrete sealers. Whether you are looking for a more basic sealant, such as Lumiseal, or a specific outdoor or specialty sealer, we can easily accommodate your requirements or specs. 
Sealant is usually applied with a roller or mop, allowing the sealer to penetrate the concrete. Most of the time, a second coat is required. Once done, you're left with a nicer looking floor that is better protected against stains and damage.
Concrete Clean and Seal
We can also mechanically clean and seal concrete, skipping the grinding altogether in order to save costs, or for areas that don't require grinding (often the case with a freshly poured slab, for example). 
In a clean and seal, we use a floor maintainer and/or an orbital buffer with a cleaning pad(s) on it to remove contaminants and clean the floor.
Next, we seal the floor with two coats of whatever sealer is desired.
The result is a floor that is better looking and better protected than it was before.
Expert Grind and Seal Flooring
General Industrial Flooring is recognized in expert concrete flooring applications. Additionally, we off installation of Urethane Cement floors, Polyaspartic Floors, Epoxy Resins, and other coatings. 
If you're unsure which floors you need, we're available to consulting for any and all projects.
General Industrial Flooring has flooring options to meet all kinds of budgets and applications. We look forward to consulting with you and helping you with your next project.