Epoxy Flake Flooring Installers
Professional Industrial and Commercial Epoxy Flake Flooring Installers
What Is Epoxy Flake Flooring?
One of the most popular methods for creating decorative flooring is by using colored vinyl flakes. Epoxy flake flooring, when done well, creates an easy to clean, attractive, durable high performance floor with excellent non-slip characteristics as well.
We install industrial and commercial epoxy flake floors in facilities of all kinds.
From medical facilities to automotive to laboratories, commercial kitchens, as an industrial or commercial garage floor coating and more, epoxy flake systems are excellent flooring options.
Double Broadcast and Installation Method
We install industrial and commercial epoxy flooring. With that, our floors are made to stand up to the test of time, which requires numerous layers. It's important that these floors also look great. To accomplish this, we use full flake epoxy floors. We apply the flake, performing what is a called a "double broadcast".
Anatomy of a Flake Epoxy Floor System
Primer / Base Coat
A double broadcast means that we have two layers of epoxy, each where flakes are thrown randomly into the layer of epoxy.
The first coat of epoxy is applied over a concrete floor and flake aggregate is broadcast into it.
Body Coat
Once the first primer coat dries, a second coat of epoxy is applied and another broadcast of flakes into that material is applied with the color chip blend selected.
Grout Coat
Once that second coat dries, we follow up with a third "grout coat" of clear epoxy which seals the prior two layers and "builds" the floor by making it thicker and more durable.
Top Coat
Finally we apply a top coat of either an extra hard epoxy top coat or a polyaspartic or specialty epoxy top coat like a chemical resistant Novolac or a urethane for added durability.
In certain applications, we may even create a floor with 5, 6 or even more layers.
These multiple layers ensure the floor has an incredible, even look and distribution of flakes.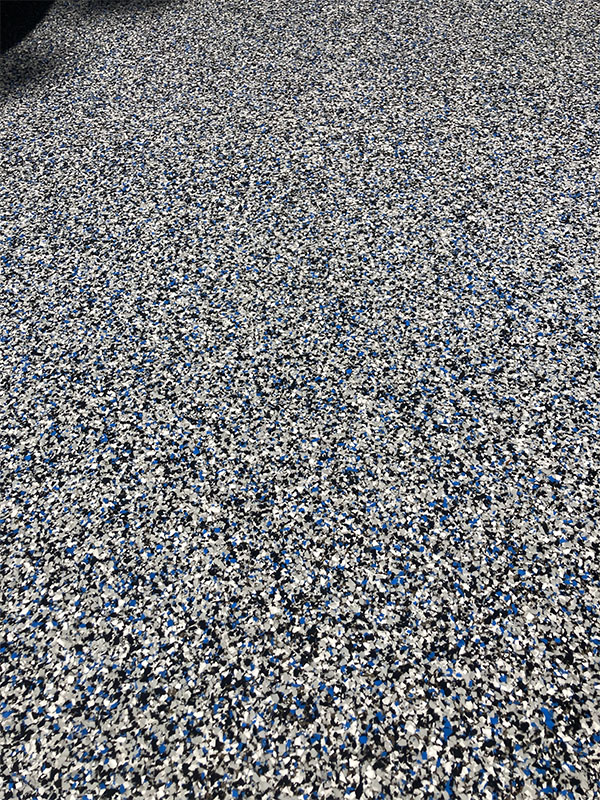 Design Options
There are infinite combinations of colored flakes that can be made. Nearly any color of vinyl flake is available. Typically a combination of flake colors is selected in order to add contrast, depth and attractive floors.
We can provide many color palettes of pre-made combinations, or we can custom blend flakes for you too if you have a specific color combination in mind.
In addition to solid colors and solid color combinations, most manufacturers also make decorative vinyl flakes that are multicolored on each flake.
These appear almost like stone or other natural material as well as other interesting, varied combinations.
Beyond Vinyl Epoxy Flakes
In addition to the more commonly known vinyl epoxy flakes, there are other lesser-known options.
Metal epoxy flakes, mica flakes, iridescent acrylic flakes, natural material flakes and more.
While these are typically more expensive, they can create unique and eye-catching epoxy flake flooring option.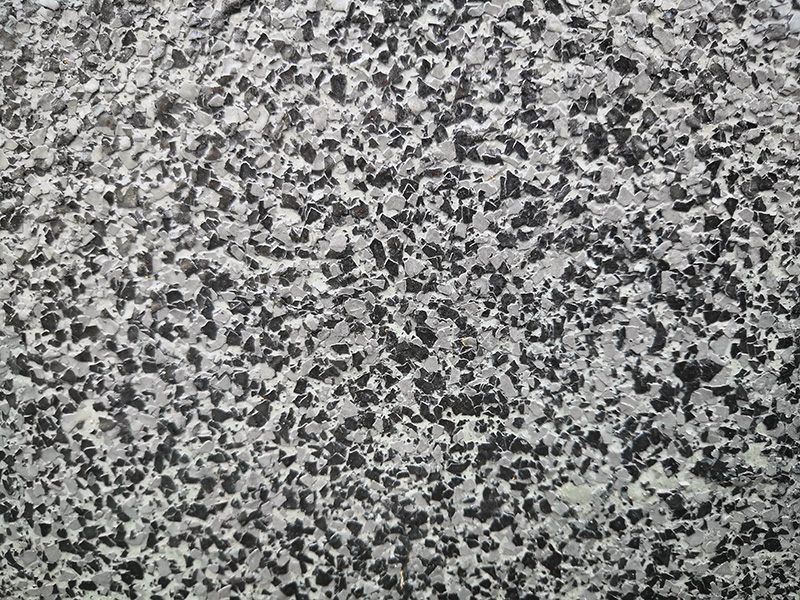 ESD Epoxy Flake Floors
Many people don't that technical epoxy floors with a specific purpose can also be made as epoxy flooring with flakes.
For example, ESD epoxy flooring, which stands for electrostatic discharge flooring, is used in labs, cleanrooms and areas where there is a risk of electrostatic damage to electrical components or a risk of explosion in the space.
These areas don't have to be a dull, smooth, single-color epoxy or an alternate material all together.
Instead, many technical or otherwise purpose driven floors can be built with a decorative epoxy flake too.
We've installed beautiful floors in all sorts of environments that others didn't realize was possible.
Urethane Cement and Epoxy Flake Floors              
Adding on to the idea above, hearty floors, like a urethane cement floor, can also be made to be decorative.
Urethane cement floors are respected for their durability, thickness, ability to handle concrete slab moisture and other properties, but they don't offer a lot of visual excitement. However, there is an alternative to the gray, dark gray or neutral colors these floors typically are found with.
Enter urethane cement with epoxy and/or polyaspartic top coats.
Making a Urethane Cement Floor Decorative
Once the urethane cement base has been laid, decorative flake (or colored quartz sand for that matter) can be broadcast into the material.
Once that has dried, an epoxy coat is laid over the top and decorative aggregate is broadcast into that layer.
Next comes a grout coat and finally a top coat of epoxy or polyaspartic.
Voila! Now we've installed a thick, durable, great looking decorative floor.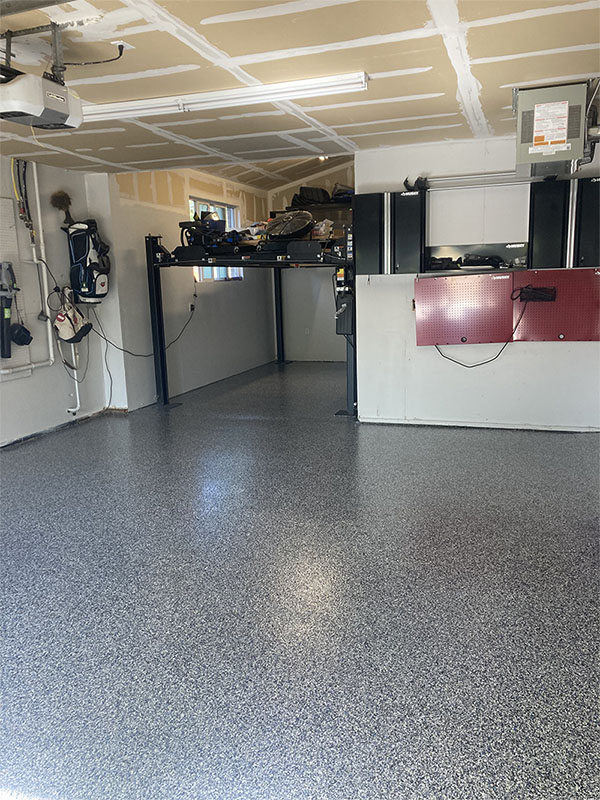 Talk to the Experts
There are a lot of options when it comes to decorative epoxy floors. Many companies aren't aware of the limitless possibilities in appearance and performance of resinous floors. They know few, or even only one system from one manufacturer or they are captive to a single product line.
With millions of square feet installed since 1989, there is a good chance we have the solution to even your trickiest requests. Call us or send an email. We welcome the opportunity to discuss your floors with you.
Andrew and Tim are very easy to work with they are willing to help if they can with any situation. Their team is responsive and works with you toward the end goal. Overall the General industrial is a pleasure to work with being very professional with a high quality of workmanship.
General Industrial Flooring installed a metallic epoxy floor in our office and warehouse areas. We love our new floor! It is beautiful and functional. Andrew, Tim, and the crew did everything including all prep work. We highly recommend this team.
We have worked with General Industrial Flooring for many years… They do fantastic work, All of the installers are polite, experienced and enjoyable to work with.