ESD Flooring Contractors Denver
General Industrial Flooring
Colorado's ESD Epoxy Experts
Professional Electrostatic Discharge Epoxy Flooring Installers
ESD Flooring is critical for protecting sensitive electrical components, explosive materials or volatile chemicals. At General Industrial Flooring, we recognize the critical nature of these floors and respect their importance.
We have substantial experience installing static control floors for general contractors, flooring companies and end users directly.
Experienced ESD Flooring Systems Professionals
Unlike most epoxy installers in Denver, we have substantial experience installing ESD epoxy floors. It's this experience that has earned us the approval and trust of numerous major ESD flooring manufacturers. Because of this, they allow us to install these specific floors.
Installing technical and difficult ESD floor coatings takes experienced supervisors and installers. They also should have the proper construction experience to work alongside the other trades working in the space.
We've been installing epoxy floors since 1989 and have installed many millions of square feet of epoxy over the years.
General Industrial Flooring has installed Electrostatic Dissipative Flooring as well as Electrostatic Conductive Floors for many years. We've installed them in clean rooms and sensitive areas, electronics manufacturers, chip manufacturers, national defense and aerospace companies and more.
What is ESD Epoxy Flooring?
ESD Epoxy Flooring (Electrostatic Discharge Flooring) is a specific kind of epoxy floor. It refers either to a floor manages electrostatic charges, thus remediating the risk of static shock.
These ESD floor finishes are essential in places where even a minor static shock can have catastrophic results. ESD floors are designed to remove the risk of static charge from causing damage to sensitive equipment. They also can be used in applications  where there is an explosive risk due to volatile chemicals, munitions, etc.
Electrostatic Discharge Flooring Applications
There are a wide variety of industries that call for ESD Floors. Some of these include:
Semiconductors

Circuit board and computer

Electronics

Labs and cleanrooms

Specialty manufacturing

Weapons and munitions

Volatile chemicals

Manufacturing with risk of explosion

Electronics repair or testing

Medical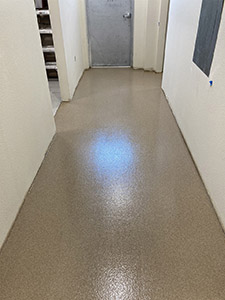 Benefits of ESD Epoxy Floors
Apart from the obvious benefit of managing static electricity, ESD epoxy floors offer many other benefits over other ESD flooring types.
Seamless
There are no cracks or gaps in the floor to collect contaminants.
Durable
ESD epoxy floors can be designed to stand up to varying levels of use. Everything from basic foot traffic all the way up to forklifts and scissor lifts with rubber wheels, for example.
Non-slip
ESD Epoxy floors offer excellent slip resistant characteristics.
Cleanability
These floors are highly cleanable, leading to easy maintenance.
Chemical Resistance
We can help you design a floor that will hold up to various different chemical spills.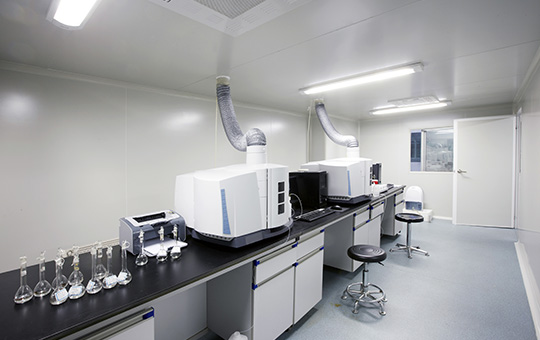 Designing and Installing an Appropriate ESD Floor
There are numerous factors to consider around ESD flooring options. Cost, durability, chemical resistance, and countless other factors come into play. ESD Epoxy is just one of many different potential ESD flooring materials. Epoxy is not always the perfect choice for every application, however, it is an excellent overall choice for many applications.
Cost
It's no surprise that ESD floors are expensive. We'll review numerous options with you. From there, we'll help you spec a floor that is cost effective while still meeting your requirements.
Durability
Durability is always a major concern when dealing with an expensive ESD Floor install. Therefore, it's important that the floor you choose will stand up to your specific requirements. This means your ESD floor can be as simple as a basic two coat floor. Alternately, it could end up floor with six or greater coats if the application calls for it.
These coats can be fully epoxy or can be a combination of urethane cement, epoxy as well as the option of adding an ESD urethane top coat for added durability and a high gloss appearance.
Grounding Needs for ESD Flooring
More basic static discharge control floors may not require grounding. More technical floor coverings typically require a copper ground strap to be installed at every 1,000 square feet of flooring installed. We work to meet all manufacturer's requirements during installation.
Electrostatic Dissipative vs. Electrostatic Conductive Floors
Your installation may require limited anti-static flooring, or more substantial static management. Electrostatic conductive floors offer resistance up to 1,000,000 Ω. Meanwhile, static dissipative floors fall between 1,000,000 Ω and 1,000,000,000 Ω. Conductive floors tend to be more expensive while dissipative floors are less expensive as a whole.
Conductive floors are typically used in environments where mitigating explosions is the primary concern. Electrostatic dissipative floors are used to protect sensitive electronic components. Regardless of the specs for your floor, we can provide an appropriate flooring solution.
Decorative ESD Epoxy Flooring Options
Another consideration when designing an ESD floor is what it should look like. Basic single color floors are typically grey or off white color. Typically, a limited palette of reds, greens, yellows etc. are available from most manufacturers as well. However, building a decorative ESD epoxy floor is also possible.
We can add a variety of aggregate into the floor. This can include vinyl flake, colored quartz sand blends, mica and even metallic pigments. Some manufacturers also allow for custom single color matching.
In short, we can typically design an ESD floor to achieve whatever look you are going for.
Whatever your needs, we'll help you design and build the right floor for your application!
Industrial and Commercial Epoxy Experts
At General Industrial Flooring, we focus on commercial and industrial flooring installations. We don't do garages, homes or other single family residential work. Our extensive experience working in commercial and industrial settings leaves you in good hands.
If you're considering ESD flooring options, don't hesitate to get in touch. We'd be happy to discuss ESD epoxy flooring systems with you.