Concrete Polishing Denver
Attractive, durable polished concrete floors for commercial and industrial applications 
Expert Concrete Polishing in Denver, CO
Polished Concrete Floors Denver
There are few floor systems that offer as much variety and unique appearance as concrete polishing does. 
What starts as a rough, uninteresting slab of concrete is transformed into a completely one of a kind floor.
Pristine newly poured slabs end up with a high gloss, uniform appearance.
Meanwhile, old existing concrete slabs that have seen years of wear still look great. It doesn't matter if they have been saw cut, chipped out, had areas re-poured and damage repaired, or show other damage. These floors can almost always be restored. In almost all cases, the concrete can be polished, leaving an industrial and varied appearance. 
Why Choose Concrete Polishing?
Each floor is completely unique in appearance

Durable surface

Stain resistant

Non-slip surface 

Low maintenance costs

No stripping and waxing

Easily cleanable

Improves light reflectivity

Good long term return on Investment

Grinding and densifying strengthens floor

Smooth, less abrasive surface = less wear on tires

Long lifespan with little upkeep

LEED approved

Eco friendly




Great for achieving an "industrial" look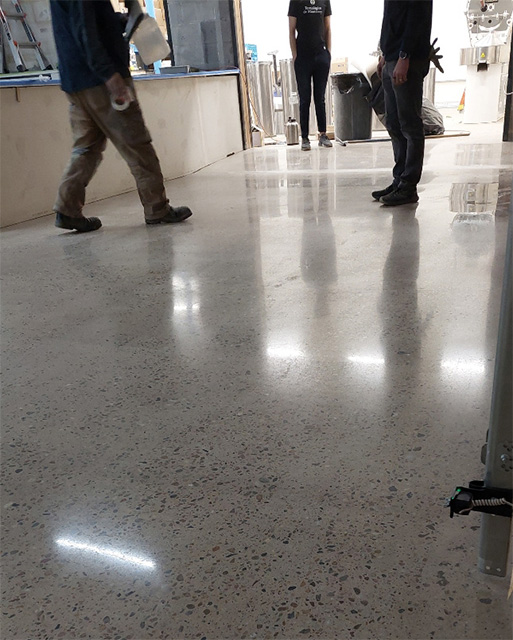 A High Quality, Low Maintenance, Gorgeous Floor That Lasts
Getting your concrete floors polished creates a timeless, one of a kind floor. Once completed, you can expect it to look largely the same for 50 years or more. Carpet, tile, VCT or many other types of floor doesn't offer the same benefit.
This is just one of many reasons why polished concrete has significantly increased in popularity in recent years. 
Polished Concrete Offers Easy Maintenance
Heavy cleaning or stripping and waxing is not necessary. Polished decorative concrete is cleaned simply by mopping or by using an auto-scrubber.
Polished Concrete Limitations
Concrete polishing is not perfect for every application. For areas where greater non-skid properties, water resistance, chemical resistance are needed, epoxy coatings or other floor coatings are often a better choice. For example, a commercial kitchen where something like urethane cement offers better protection.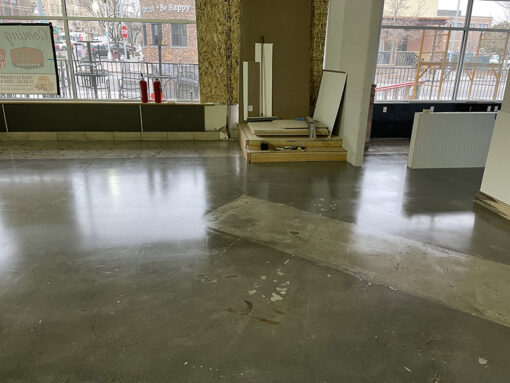 Common Polished Concrete Applications
Retail
Offices
Restaurants
Breweries
Hospitals
Warehouses
Concrete Polishing Process
We use large industrial diamond grinders and hand grinders, all attached to HEPA vacuums to grind the floors.
Cutting the floor begins with aggressive diamond grinding tooling to smooth the surface. If there is any glue, mastic, or thinset remaining from a prior floor, this will also be ground off.
Aggregate Exposure
During this initial phase, we also grind to the desired depth of aggregate exposure.  Cream finish, salt and pepper, small aggregate or large aggregate.
Patching, Repairs and Joint Filling
Once the initial surface preparation is complete, we fill gaps and voids with a cement patch or urethane material. If desired, we can also fill joints with polyurea or other suitable materials.
Continue Polishing
Next, we use increasingly finer diamond grits to achieve the desired level of gloss. If concrete staining is desired, it takes place during this phase as well.
Eventually concrete surfaces are finished to the appropriate gloss. 200 grit, 400 grit, 800 grit (or even higher) grit levels are selected depending on the client's preferences for the level of gloss.
The process of polishing concrete is not fast, but the final results are well worth the wait.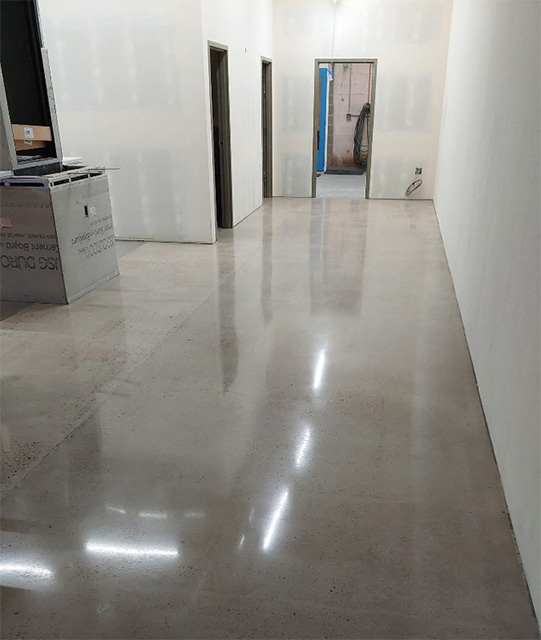 Customizable Appearance
One of the most interesting characteristics of polished concrete is the ability to choose how it looks. Typically, one can choose the appearance of the concrete floor. This can a range between a highly uniform appearance all the way up to a very random appearance.
It's also possible to choose from little to no aggregate exposure all the way to large aggregate showing.
The level of gloss can also be selected. One can choose from flat, to matte, to low luster, all the way up to a mirror like finish. Floor stains can also be introduced. Combining all these characteristics allows for countless options.
These choices can be classified by standardized definitions provided by the Concrete Polishing Council. When concrete is poured, the larger aggregate is lower, while the fine sands and smooth appearance are on the top layer. Thus, the deeper the grind, the greater the aggregate exposure.
Aggregate Exposure in Concrete Polishing
Class A: Cream Finish – This level of polish removes very little of the concrete depth. Polishing begins right from the start. The result is a very smooth, uniform appearance without any aggregate showing. 
Class B: Salt and Pepper – Slightly more aggressive than the cream finish. This finish involves removing about 1/16″ of material to show a sand/very small aggregate appearance.
Class C: Medium Aggregate – Grinding to approximately 1/8″ deep reveals medium sized aggregate in the concrete. This consists of material that is 1/8″-1/4″ pebbles with some occasional larger aggregate showing. At this point and beyond, a urethane backfill will often be required since pinholes and inconsistencies will need to be filled
Class D: Coarse Aggregate – Removing approximately 1/4″ of material reveals the large aggregate. This is made up of larger stones of 1/2″ or greater in size with smaller aggregate mixed in.
Gloss Level in Polished Concrete
<100 Grit – The purpose of this grind is to remove scratches from the coarser diamonds that came before it. A flat finish without any reflectivity is the final result.
100 – 400 Grit – This level of polish results in a satin or matte appearance with some reflectivity but not highly reflective.
800 Grit – Polishing concrete to this level results in a reflective surface where objects are clearly reflected in the concrete.
>800 Grit – Polishing beyond 800 grit results in a highly polished appearance where reflections are sharp and mirror-like.
Commercial Concrete Polishing Denver CO and Across The Front Range
General Industrial Flooring offers professional concrete polishing for industrial and commercial markets throughout Colorado.
Whether your project involves polishing 1,000 sq. ft. or 50,000, we can help.
We welcome the opportunity to discuss your project with you. Request a quote and we'll be happy to provide a free estimate.