Polished Concrete Floors
Attractive, durable polished concrete floors for commercial and industrial applications 
Expert concrete polishing based in Denver, CO
Concrete Floor Polishing in Denver
There are few flooring options that offer as much variety and unique appearance as polished concrete does. 
What starts as a rough, uninteresting slab of concrete is transformed into a completely one of a kind floor.
Pristine newly poured slabs end up with a high gloss, uniform appearance.
Meanwhile, old concrete slabs that have been saw cut, chipped out, had areas re-poured and damage repaired, still look great after polishing, albeit with a more industrial and varied appearance. 
Why Choose Polished Concrete?
Each Floor is Completely Unique in Appearance

Durable Surface

Stain Resistant

Non-slip Surface 

Low Maintenance Costs

No Stripping and Waxing

Easily Cleanable

Improves Light Reflectivity

Good Long Term ROI on Investment

Grinding and Densifying Strengthens Floor

Smooth, Less Abrasive Surface = Less Wear on Tires

Long Lifespan with Little Upkeep

LEED Approved

Eco Friendly




Great for Achieving an "Industrial" Look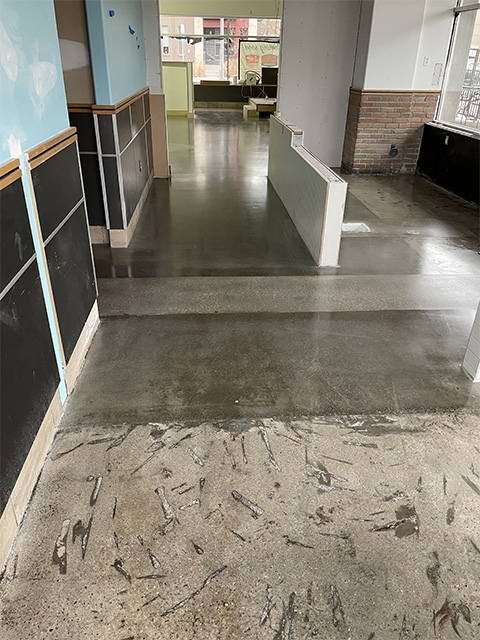 A High Quality, Low Maintenance, Gorgeous Floor That Lasts
Getting your concrete floors polished creates a timeless, one of a kind floor. Once completed, you can expect it to look largely the same for 50 years or more. 
Try saying that about carpet, tile, VCT or many other types of floor.
In addition, instead of heavy cleaning and/or stripping and waxing, polished concrete is cleaned simply by mopping.
It's not perfect for every application, for example a commercial kitchen where something like urethane cement offers better protection. However for many applications, the benefits of polished concrete flooring are not a secret.
There are plenty of good reasons why this option has significantly increased in popularity in recent years. It looks great, it's easy to care for, and it will look great for many years to come.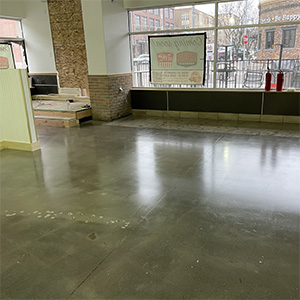 Common Polished Concrete Uses
Retail
Offices
Restaurants
Breweries
Hospitals
Warehouses
Concrete Polishing Process
Using large industrial grinders, we start with aggressive diamond grinding tools to smooth the surface. We do this in conjunction with filling gaps and voids with a cement patch material.
Next, we use increasingly finer diamond grits over the course of 6-8 grinding steps.
All the while, hand grinding tools are similarly used to grind the edges of the area to match.
Eventually concrete surfaces are finished to a 200, 400, 800 (or even higher) grit level depending on the client's preferences for the level of desired "gloss" or reflectivity. The process of polishing concrete is not fast, but the final results are well worth the wait.
Professional Commercial Concrete Polishing in Denver and The Front Range
General Industrial Flooring offers professional concrete polishing for industrial and commercial markets in Denver and across the Colorado Front Range.
Whether your project involves polishing 500 sq. ft. or 50,000, we can help.
We welcome the opportunity to discuss your project with you and provide a competitive bid.