Urethane Cement Flooring
Durable, resilient urethane cement floors for commercial and industrial applications 
Expert installation based in Denver, CO 
Urethane Cement Floor Installation
Urethane Cement (also known as urethane mortar or cementitious urethane ) combines urethane with cement. This results in floors that have excellent durability. They also offer very good temperature and chemical resistance.
Because of these properties, urethane cement floors are a perfect choice for demanding environments.
Urethane vs. Epoxy
In general, epoxy floors can be an excellent choice. However, for demanding environments, our choice is usually cementitious urethane. Epoxy does not compare when it comes to thermal shock resistance, chemical resistance or general durability.
Experience Matters
We have decades of experience working with urethane cement floors and hundreds of successful installations. Our floors look great. They perform even better.
Why Choose Urethane Cement?
Durability – High impact and abrasion resistance. These are heavy duty, industrial flooring solutions.
Thermal Stability – Certain coatings can soften or fail when exposed to heat (such as a spilled pot of boiling water). Urethane mortars offers significant stability from thermal shock and eliminates this concern.
Cleanable and Steam Cleanable – Hot water and steam are important for proper cleaning and sanitizing. Environments like food manufacturing, restaurants and breweries need to be cleaned with very hot water and/or steam. These floors resist thermal shock and can be cleaned with very hot water and steam.
Chemical Resistance

– Cementitious urethane floors offer significant chemical resistance compared to many other coatings. While other products can offer higher chemical resistance, most applications can be covered by Urethane Mortar flooring.

Attractive Appearance – Typically these floors are a grey color that is perfect for, say, a commercial kitchen floor. To make the floor more decorative, quartz and vinyl flakes can be added in certain applications.
Low Odor, Fast Installation – Urethane mortar installations can be done with or without an integrated 4″ or 6″ cove. For smaller jobs, installation usually takes a few days. The install goes reasonably quickly and does not produce any significant odor during the install process.
Seamless Flooring System – These floor coating systems are applied directly over your existing concrete floors. When installed correctly, they can almost always be applied as a seamless coating system.
Urethane Mortar Floor Applications
Breweries
Food and Beverage Manufacturing
Commercial Kitchens
Manufacturing
Food and Dairy
Cold Storage Areas
Chemical Storage Facility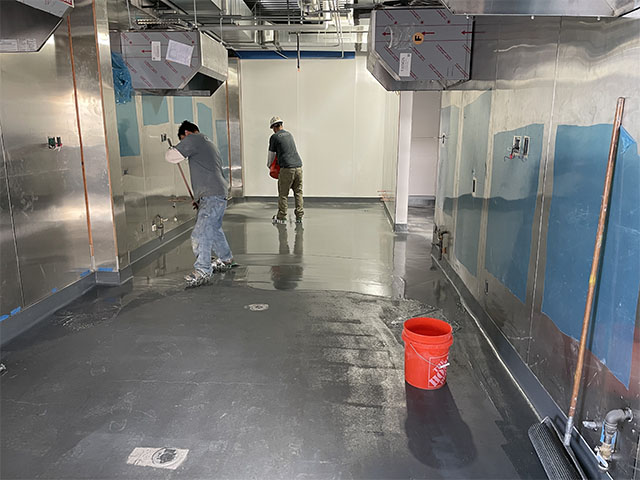 Flexible Installation Options
We work with many different manufacturers
We work with a variety of urethane cement system manufacturers. Dur-a-flex, Sherwin Williams Industrial, Protective Industrial Polymers, to name a few of the many.
If your project has specific specs, we are happy to meet them. If not, we will work with you to recommend the best solution for your project.
Changing flooring appearance and texture
In most instances, urethane cement floors can be kept a solid color or transformed into a decorative floor.
We do this through the addition of colored quartz sand and/or vinyl flakes.
Similarly, we can increase/decrease the amount of quartz that we broadcast.
This can achieve different textures and levels of slip resistance. More quartz leads to more texture.
Cove options
Urethane cement floors can be installed with or without an integrated cove.
We build 4″ and 6″ cove up the edges of the wall and integrate it seamlessly into the floor system.
Professional Urethane Cement Flooring Installation in Denver and Nearby Areas
Trust General Industrial Flooring when you're looking for a urethane concrete flooring installer. We specialize in commercial and industrial projects in Denver or across the Colorado Front Range.
Whether your project includes 500 sq. ft. or 50,000, we can help.  
We'd be happy to discuss your project with you and provide a competitive bid for a professional installation.
General Industrial Flooring installed a metallic epoxy floor in our office and warehouse areas. We love our new floor! It is beautiful and functional. Andrew, Tim, and the crew did everything including all prep work. We highly recommend this team.
Andrew, Tim and team did an amazing job! We had a bit of a water issue (not their fault) and they worked with us to make sure the job was still completed on time – really appreciate their extra efforts!
We have worked with General Industrial Flooring for many years… They do fantastic work, All of the installers are polite, experienced and enjoyable to work with.