Specialty Floor Coatings Installers Denver
Experts in Technically Difficult Denver Floor Coating Installations and Repairs
Floor coatings comes in many different varieties with a wide range of applications. A basic epoxy or epoxy coating and polyaspartic top coat combination may be adequate for a simple garage installation.
It won't stand up to the rigors of many industrial and commercial applications, however.
Specialty floor coatings are important in offering chemical resistance to specific or numerous chemicals. They can also be essential for supporting heavy loads and providing significant durability and wear resistance. Other specialty flooring systems are needed for USDA and FDA approved food and beverage facilities. Electrostatic discharge coatings are another application that proves necessary for clean rooms, labs, etc.
In short, it's essential to spec the correct coating to the job its supposed to do. Fortunately, we have over 30 years of experience installing industrial and commercial floor coating systems. We are here to help find the right materials and expertly install them.
Chemical Resistant Floor Coatings
We install epoxy floors in labs, medical facilities, battery rooms, industrial and manufacturing settings and other facilities. In these locations, high concentration harsh chemicals can often be present.
We have installed floors to resist hydrochloric acid, sulfuric acid, nitric acid, sodium hydroxide, peroxide, algaecides, and countless other chemicals. Sometimes all it takes is a special containment area carved out from the main floor. Other times we can install a specialty coating system across the entire floor area. 
Typically when dealing with high strength chemicals, a Novolac epoxy, poly-aspartic or urethane top coat is the right choice. However, sometimes chemicals that seem like they would be particularly bad to a resinous floor actually are fine.
We frequently encounter situations where commercial and industrial floors are going to be subject to harsh chemicals. When this happens, we will do the research needed. Once that's done, we'll present you with the appropriate material and manufacturer to provide adequate chemical resistance.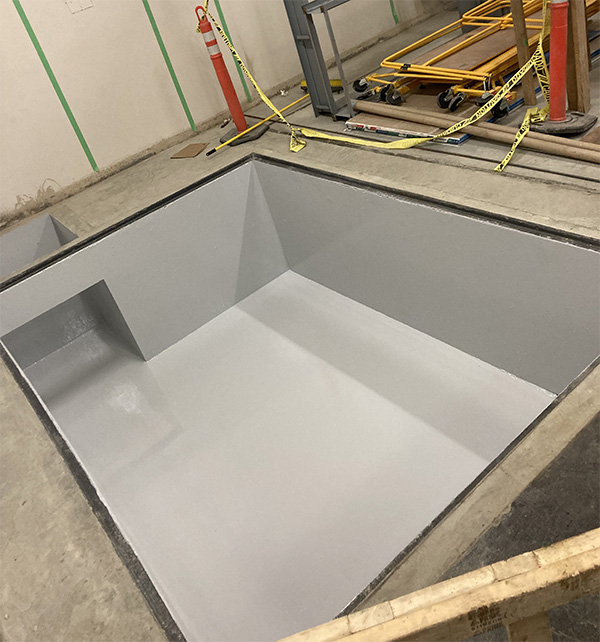 High Traffic Area Floor Coatings
Certain facilities have high foot traffic or vehicle traffic areas. The high use in these areas can lead to a traditional epoxy system wearing out quickly. It also can lead to the elimination or reduction of the original slip resistant coating.
High strength epoxies, urethane cements, polyaspartics and urethane top coats can all work to address this problem. This can lead to better protecting your floor while leaving it easy to clean.
Electrostatic Discharge Floor Coatings
ESD epoxy flooring comes in both electrostatic conductive as well as electrostatic dissipative versions. We are well versed in installing both versions of ESD floor over concrete surfaces.
These ESD floors are used in environments where even a slight static charge can have drastic consequences. For example, electronics manufacturers, computer chip manufacturers, clean rooms or environments where a static charge could cause an explosion.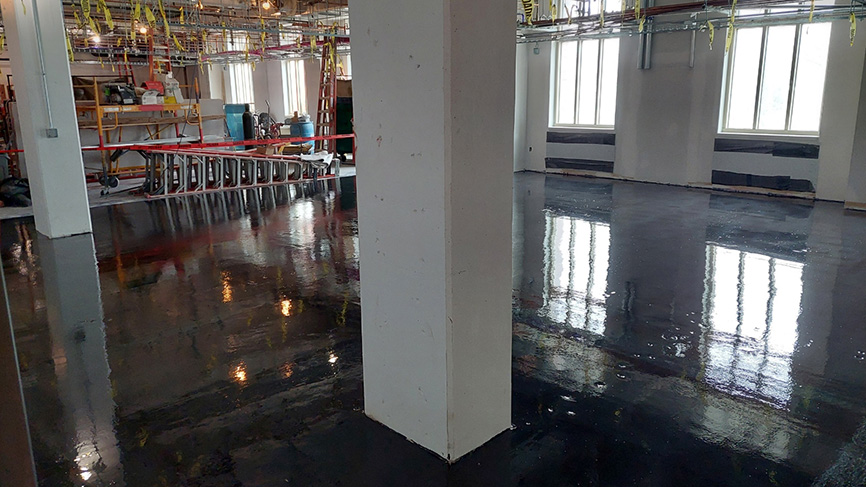 Moisture Vapor Control Coatings
Concrete floors can have too high of a relative humidity for certain flooring types to be installed over it.
In these circumstances, it's necessary to install a moisture mitigation system on the concrete slab.
This could be as simple as a basic moisture blocking epoxy or urethane cement base coat. Sometimes, though, it may be necessary to have a more substantial barrier.
This often can be something like Ardex MC Rapid. A moisture coating that then has a cementitious underlayment applied over the top of it. This allows another flooring surface (carpet, LVT, rubber, etc.) to be installed over it safely.
USDA and FDA Approved Food and Beverage Floor Coatings
Food and beverage manufacturing facilities, restaurants and commercial kitchens, dairy environments and more all require specialty flooring. This flooring needs to both stand up to the daily use and abuse, but also to meet USDA and FDA specifications.
We have multiple options that will work in these applications.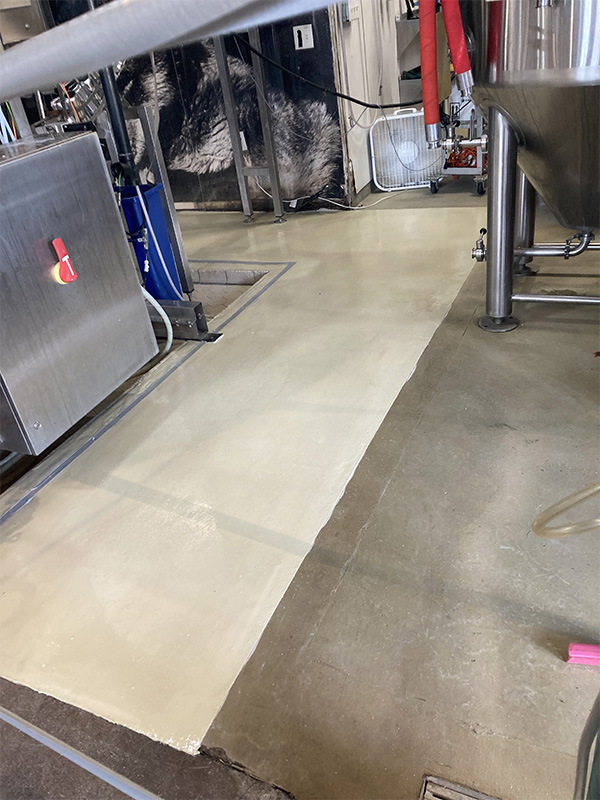 Talk to the Experts
At General Industrial Flooring, we have been installing commercial and industrial floor coatings since 1989. We have installed millions of square feet installed since then. This experience makes us confident that we'll have the solution to even your trickiest floor coating related issues.
Give us a call or send us an email. We welcome the opportunity to discuss your floors with you.
Andrew, Tim and team did an amazing job! We had a bit of a water issue (not their fault) and they worked with us to make sure the job was still completed on time – really appreciate their extra efforts!
General Industrial Flooring installed a metallic epoxy floor in our office and warehouse areas. We love our new floor! It is beautiful and functional. Andrew, Tim, and the crew did everything including all prep work. We highly recommend this team.
Great company to work with, put kitchen floor in our bar and leveled pool room. Both really really quality work.