Expert Lab Flooring Installers in Denver
Durable, Cleanable, Chemical-Resistant Epoxy Laboratory Flooring
Lab Flooring Specialists
We specialize in providing high-quality and durable lab flooring solutions for a variety of laboratory settings. Epoxy laboratory flooring is designed to withstand heavy foot traffic, chemical spills, and other harsh conditions commonly found in labs.
Our epoxy laboratory flooring options are perfect for a wide range of applications. Research labs, medical labs, industrial labs, and more.
We understand that laboratory flooring needs to be durable, slip-resistant, easy to clean, and capable of withstanding chemical spills and heavy foot traffic. That's why we offer a wide range of epoxy flooring solutions that are specifically designed for laboratory settings.
Whether you're renovating an existing laboratory or building a new one, we have the expertise and experience to deliver the right flooring solution for your needs.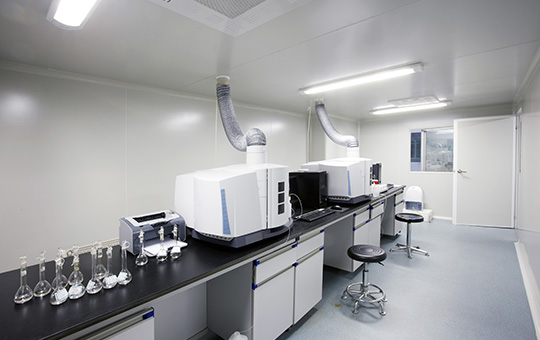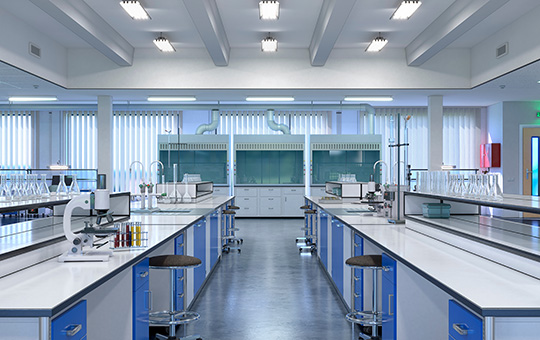 Benefits of Epoxy Laboratory Flooring
Epoxy flooring is a high performing choice for laboratory environments due to its numerous benefits. Here are some of the top benefits of using epoxy flooring in a lab.
Durability
Epoxy flooring is extremely durable and can withstand heavy foot traffic, chemical spills, and other harsh conditions commonly found in labs. This makes it an ideal choice for lab environments where safety and durability are a top priority to maintain a controlled environment.
Easy to Clean
Epoxy flooring is easy to clean and maintain. Unlike other types of flooring, it does not require special cleaning products or techniques to keep it looking its best. This makes it a great option for busy labs that need to be cleaned frequently.
Integral Cove Base
We can build and install integral 4" or 6" cove base throughout your building or in certain areas. Integral cove base allows for easy cleanability and offers additional protection in areas that more susceptible to wall damage. Cove base extends the seamless flooring characteristics a few inches up the wall.
Slip-Resistant
Epoxy flooring is slip-resistant, making it a safe choice for labs and clean rooms. This can help prevent accidents and injuries in the workplace. This is especially important in lab environments where hazardous materials are present. We can also adjust the flooring system to the level of non-skid texture that fits your needs. 
Customizable
Epoxy flooring can be customized to fit your specific needs. You can choose from a variety of textures, colors, and patterns to create a unique look for your lab environment. This allows you to create a professional and attractive space that is both functional and aesthetically pleasing. Whether you want a solid color floor, a quartz floor or a flake epoxy floor, we can install it. Nearly any color and appearance is possible.
Chemical Resistance
Epoxy flooring is highly resistant to chemicals, making it an ideal choice for labs that deal with corrosive substances. This type of flooring can withstand the harsh chemicals used in many labs without becoming damaged or discolored. We will work with you to spec an appropriate floor to the types of chemicals and concentrations anticipated to be used.
Cost-Effective
Epoxy flooring is a cost-effective solution for lab environments. It is less expensive than many other types of flooring materials and can last for many years with proper maintenance. This can save you money over the long term, making it a smart investment for your lab.
Quick Installation
Epoxy flooring can be installed quickly, which means that there is minimal downtime for your facility. This is especially important for businesses that need to remain open during the installation process. 
Why You Should Choose General Industrial Flooring
We understand the unique needs of laboratories and the importance of providing a clean and safe environment. Our epoxy flooring products are designed to meet these needs, with slip-resistant surfaces that are easy to clean and maintain.
Expertise
We've been installing technical resinous flooring systems and concrete flooring since 1989. Our team has many years of experience in providing lab floors to a variety of industries. We understand the unique challenges and requirements of lab environments and can deliver the right solution for your specific needs. 
Quality Materials
We use only high-quality materials and state-of-the-art equipment. This ensures that your lab flooring is durable and long-lasting. We have long standing relationships with a large number of industrial flooring suppliers to design the perfect floor. We'll also install materials from other suppliers in order to meet a required architect's specifications.
Customization
We offer a range of customization options for our epoxy flooring solutions, including color and finish options. This allows you to choose a flooring solution that complements your existing decor. It also creates a welcoming environment for your staff and visitors.
Professional Installation
Our team of experts will install your lab flooring efficiently and professionally, minimizing disruption to your daily operations.
Ongoing Local Support
We are a Denver based company servicing customers across the Front Range. Should you require repairs or other service, we are local and available to help. 
Types of Epoxy Flooring for Labs
Epoxy flooring offers a highly customizable platform for your lab. We can create nearly any single color or blend of colors. We can also use small aggregate up to large flake aggregate to further modify the appearance.
Quartz Epoxy Flooring
Quartz Epoxy Flooring a type of epoxy flooring that is highly durable and slip-resistant. It consists of colored quartz crystals that are embedded in the epoxy. This creates a textured surface that is ideal for areas that are prone to spills and slips. 
Flake Epoxy Flooring
Flake epoxy flooring is a type of epoxy flooring that is highly customizable. It consists of small flakes that are embedded in the epoxy, creating a textured and colorful surface. This type of epoxy flooring is ideal for labs that want to create a unique and eye-catching environment.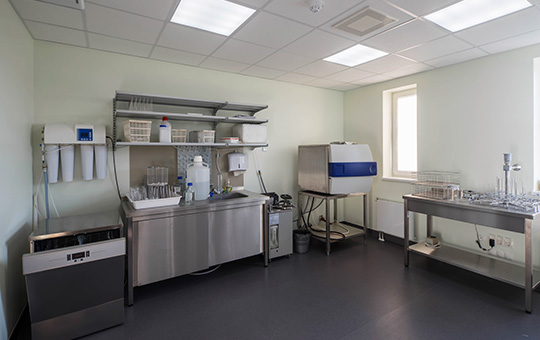 Expert Laboratory Epoxy Flooring in Denver, CO.
General Industrial Flooring has serviced businesses in and around the Denver area since 1989. With an extensive amount of experience, consulting on and installing floors for businesses of all kinds.
If you're looking for high-quality lab floors, contact us today to learn more about our epoxy laboratory flooring services. We'll work with you to create a customized flooring solution that meets your specific needs.
Our aim is to help you with any of your flooring needs. We work with business owners directly as well as general contractors on existing or brand new projects. Contact us today to discuss your laboratory flooring needs and schedule a consultation.