What is Epoxy Quartz Flooring?
Quartz epoxy flooring is a type of decorative epoxy floor coating. Once a coat of epoxy has been applied to the floor, colored quartz aggregate is broadcast (thrown) into the still wet epoxy coat.
After the decorative quartz has been applied, the epoxy is allowed to dry before additional coats are added. 
Colored quartz epoxy flooring is a decorative, durable, non-skid, hard wearing floor that stands up to heavy traffic.
Quartz Epoxy Flooring System Design
A lot goes in to the proper design and installation of a quartz floor. We'll work to ensure the specs in your plans are met. If you don't have specific details on your project (manufacturer, quartz colors, timeline etc.), we'll be happy to walk you through our suggestions and pricing.
What Makes a Quartz Floor?
First, the concrete surface needs to be prepped using a vacuum diamond grinder and a shot blaster. Proper surface prep is vital. Also during this time, moisture testing is often a good idea. 
If moisture is an issue, we'll need to install a moisture blocking primer or a full moisture mitigation system. If moisture is not a concern, we may or may not install a primer depending on the system.
Body Coat(s)
Next, we install the first body coat and broadcast into it. Typically a double broadcast epoxy system contains 4-5 coats. A single broadcast is not typically recommended due to spotty appearance). Once the broadcast body coats have been applied, a grout coat is applied, followed by a top coat. 
Grout Coat
The grout coat further builds the floor by adding material while sealing the coats below.
Top Coat
The top coat seals the floor and completes the system. Top coats can also be done in varying different materials including specialty floor coatings; polyaspartic, urethane, novolac etc. depending on the needs of the client and what the expected uses of the floor will be.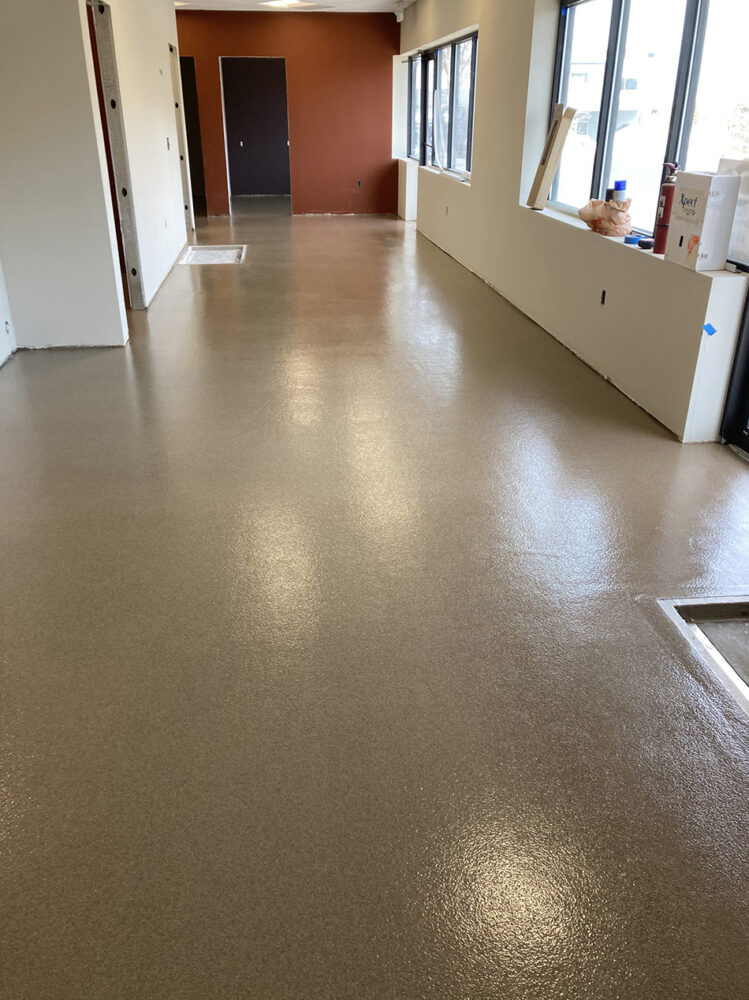 Final Appearance
A high quality quartz epoxy floor coating should have an "orange peel" texture. It should not be sharp, with aggregate sticking out (unless specifically called for in applications where intense non-slip qualities are needed and embedded exposed sand or even ground aluminum is required). The grout coat and the top coat cover the quartz so the surface is mostly smooth "orange peel" texture but with plenty of slip resistance characteristics as well.
Quartz Epoxy Floor Benefits
Quartz flooring systems are a durable, attractive, non-skid, high performance floor. They provide seamless floor with an optional 4" or 6" integral cove base.
Depending on the materials used, these floors can also be highly chemical resistant and hard wearing.
We've installed epoxy floors in everything from warehouses to restaurants to hospitals and everywhere in between.  These resinous flooring systems can find a use in nearly any kind of facility.
Epoxy quartz floors come in nearly any color you can think of. While hot pink and bright yellow are options, we rarely install them.
Most decorative epoxy floors are beige, tan, grey, or a salt and pepper kind of look.
Instead of applying a straight single color of quartz, blends of different colors in differing quantities are mixed together to provide more depth and variation vs. a plain single color.
We have been blending quartz colors and custom matching existing quartz floors since 1989 as a service to other area epoxy flooring contractors. Of course, our primary work is installing the floors ourselves.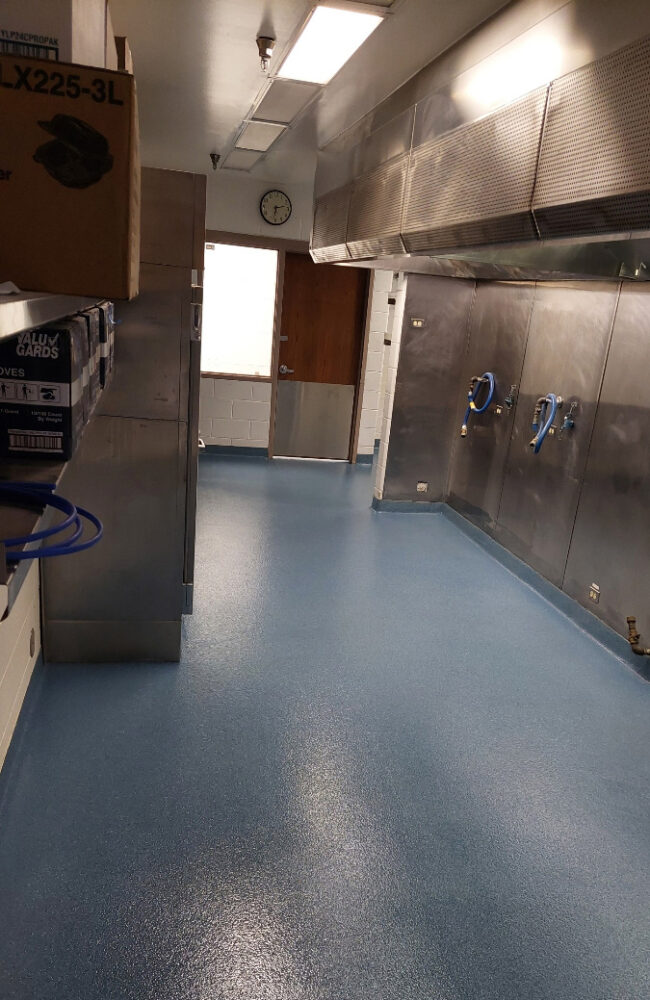 Quartz Epoxy Floors vs. Flake Epoxy Floors
Epoxy quartz floors are only one of the options to modify the look of your floor. Vinyl flake epoxy floors  or even metallic epoxy floors are also decorative options that look great.
Vinyl Flake
Vinyl flake floors follows a similar process to the quartz systems described above. Instead of broadcasting quartz sand, however, the installer broadcasts vinyl flake uniformly across the floor.
Like quartz, flake comes in nearly any color or combination. Typically it's best to use a few different colors in a blend.
Specialty Flake
Flake also comes in mica, or even metallic for those that really want to add a lot of sparkle to a floor.
Metallic Epoxy
Metallic epoxy floors are another decorative epoxy floor option. This system uses metallic pigment over a background color. Quartz and/or flake are not used in a metallic epoxy floor.
Trusted Commercial and Industrial Epoxy Floor Installers
Since 1989, General Industrial Flooring has been installing epoxy floors throughout the greater Denver area and beyond. We have a wealth of experience with materials from a wide range of manufacturers. We're also the local resource that other contractors often go to when they need to buy colored quartz in Denver.
If you have a commercial or industrial project calling for resinous flooring of any kind in and around Denver, we'd be happy to discuss your project with you further. Please feel free to connect.