Commercial Kitchen Epoxy Flooring Denver
Expertly Installed Flooring for Commercial Kitchens and Restaurants
Restaurant Epoxy Flooring Options
Choosing the right floor for a restaurant presents unique challenges due to the combination of specific needs a restaurant demands. This is true both in the kitchen and the front of house.
Commercial Kitchen Epoxy Flooring
Commercial kitchens require non-slip flooring that is easily cleanable while being resistant to temperature and water. Hot oil, heavily daily cleanings, significant foot traffic and possibly deep freezers all play into the mix. 
Historically this task has fallen to hard to clean, slippery ceramic tiles with grout lines that collect food and debris. 
Fortunately, commercial kitchen flooring epoxy solutions exist that tackle all of these problems providing a truly superior commercial kitchen floor.
Front of House Flooring
Decorative epoxy flooring coatings can provide a good front of house flooring solution for your restaurant. We think, however, polished concrete is often a better flooring choice.
Polished concrete in a restaurant provides a great industrial look that many modern restaurants desire. It also offers non-slip properties and an attractive appearance.
Restaurant Kitchen Flooring 
When it comes to commercial kitchen epoxy floor coatings, one would have a difficult time doing better than urethane cement. This high durability, high resiliency floor looks great and provides a perfect fit for the food industry. Urethane Cement is not technically an epoxy system, but falls under the same family of resinous flooring. Urethane cement floors offer these advantages:
Durable – Tougher than concrete, these floors are impact and abrasion resistant.
Thermal Shock Stability – Won't soften or fail when exposed to heat. Urethane cement holds up well to hot water and steam cleaning.
Chemical Resistant – Able to withstand daily cleanings and periodic deep cleaning and disinfecting without damage.
Slip Resistant – Urethane cement is installed with various levels of non-slip properties while remaining easy to clean.
Seamless Flooring System – Usually installed with a 4″ or 6″ cove, these floors are installed over a concrete slab. There are no grout lines or places between floors and walls for debris to get caught.
Low Odor, Fast Install – Urethane cement can be installed quickly in kitchens and offers low to no odor installations allowing for a quick return to service.
Appearance – These floors look great. Coupled with great durability, they continue to look great for many years.
USDA Approved – Seamless, resistant floors prevent contaminants from bacteria, mold and fungus etc.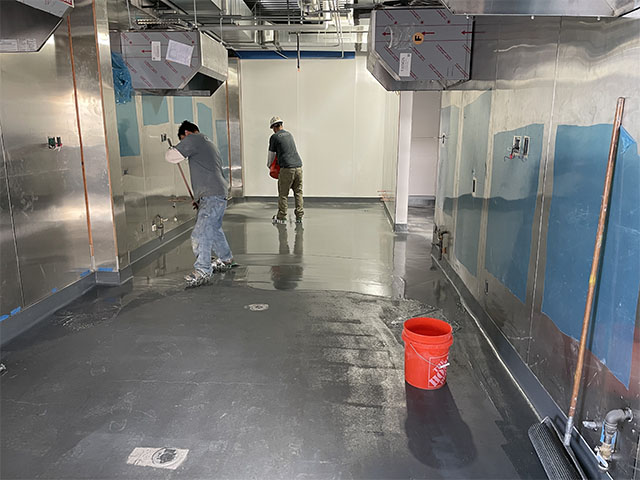 Polished Concrete for Restaurant Front of House Areas
Polished concrete provides an attractive, resilient front of house option for restaurants. We can polish concrete up to the point of a dull shine all the way up to a highly-reflective, nearly mirror finish. Because of this, you can customize the appearance of the floor.
Non-Slip Surface
It's a surprise to many people that polished concrete, while sometimes looking as smooth as glass, is not actually slippery.
Low Maintenance
Typical maintenance for polished concrete floors involves simple daily mopping with a neutral cleaner. This step alone will mostly maintain the shiny finish. An infrequent burnishing of the floors will restore any lost shine.
Durable
It should be no surprise that concrete is durable to begin with. However, part of polishing concrete is applying a densifier. This actually increases the durability of the concrete surface being polished.
Because of this, you can be confident these floors will look great for a great many years to come.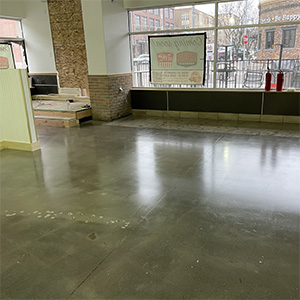 Professional Food Service Flooring in Denver
General Industrial Flooring has been a trusted provider of commercial kitchen flooring in Denver since 1989. We have extensive experience consulting on and installing epoxy flooring for commercial kitchens and restaurants of all kinds.
Whether your project is a new build or a refresh of an existing space, we can help. We work with general contractors as well as with restaurant owners directly. Give us a call or send us an email to discuss the specifics of your project.