Concrete Moisture Control
Professional Concrete Moisture Testing and Mitigation
in and Around Denver, CO
Concrete Moisture Testing and Control
General Industrial Flooring performs concrete moisture testing and mitigation for commercial and industrial flooring clients of all kinds.
We can help you identify and manage the moisture in the concrete slab for your project.
We'll test the slab and make recommendations, if necessary, on how to manage the moisture in the slab.
Then we will work with you to prepare the slab and install the appropriate moisture control system for the needs of your project.
Moisture Testing and Moisture Mitigation Concrete Flooring
Before installing a floor on a concrete slab, its important to first make sure that moisture is not going to cause a problem.
When you're installing epoxy, LVT, carpet, hardwood, rubber or another flooring material over concrete, it's wise to test the concrete for moisture.
Depending on the results of the test, a concrete moisture primer or concrete moisture barrier system may be necessary.
Concrete Moisture Vapor Transmission (MVT)
On certain concrete slabs, a high presence of relative humidity (RH) can, over time, allow moisture to penetrate to the top of the concrete slab.
This moisture vapor emission can interfere with the flooring surface installed above, leading to unsuitable changes in pH, adhesive failures, warping floor surfaces, disbondment or other moisture related issues.
When these issues occur after a poor install, often times the floor needs to be ripped out, a moisture mitigation system needs to be installed, and a new floor is put in.
In short, it's essential to manage moisture before another flooring surface is installed.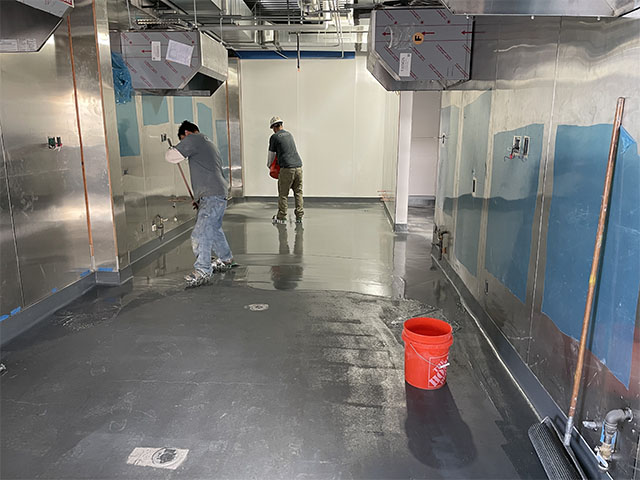 Concrete Floor Moisture Mitigation vs. Concrete Moisture Primers
The relative humidity of a concrete slab and the type of floor covering to be installed on it usually dictate what kind of moisture control system we choose to install.
An epoxy floor, for example, tolerates a certain amount of moisture in a concrete slab while carpet tiles, wood floors or laminate flooring tolerate a different amount of moisture.
Moisture Primers
When there is a moisture issue with an epoxy and other resinous flooring install, typically we can install either a base coat of urethane cement topped with coats of epoxy, or we can use a moisture primer (MVT primer).
In almost all resinous flooring related circumstances, this is an excellent solution to manage slab moisture and avoid potential issues down the road. It's also quite cost effective.
Moisture Control System
When installing other flooring types (carpet, MVT, rubber etc.), a moisture control system, such as Ardex MC Rapid, is installed over slabs that have moisture issues. These systems are substantially more expensive than a basic primer, both in terms of materials as well as labor.
When installing these systems, we need to grind and shotblast the floor, removing any existing coatings while preparing the slab.
Next, we apply a primer, followed by the moisture control coating.
After the coating has been applied, we then need to install a concrete underlayment, like Ardex K10 or K15 to provide a suitable surface for the floor that will go above it.
New vs. Existing Concrete Moisture Control
Green (Freshly Poured) Concrete:
Another consideration about moisture control is the age of the concrete. Typically, concrete is not considered fully cured until 28 days. However, many times it is necessary to return the floor to service before allowing a full 28 days. Moisture control systems can dramatically shorten or eliminate this wait time.
Existing Slab Issues
Other times, the problem with the concrete is not that it's been recently poured, but rather it has to do with the underlying soil conditions and/or drainage. In these situations, no amount of waiting for the moisture to resolve itself will help and a concrete moisture control system is necessary.
Get in Touch
We offer concrete moisture testing as well as moisture control systems for floors that we are going to install as well as for flooring contractors and general contractors.
Trust us to provide accurate moisture readings, make recommendations, and install the appropriate moisture control system for your project.